EDP ADE After Hour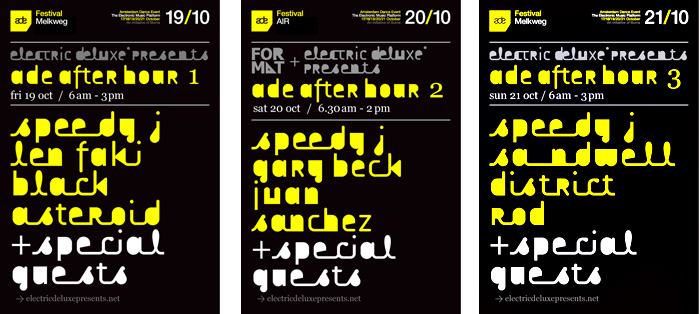 3 x Electric Deluxe After Hour @ ADE
Speedy J's Electric Deluxe takes over ADE after hours with 3 special events
After closing ADE festivities last year Electric Deluxe Presents are back again, this time with a string of afterhours programmed across the weekend. As well as Friday and Sunday parties at EDP home Melkweg with headliners Len Faki and Sandwell District comes a special night at AIR on the Saturday, where Speedy J and select EDLX roster stars will team up with Juan Sanchez and his leading FORMAT event to deliver a techno tête à tête of unmissable proportions.
Friday 19 oct  - Melkweg
Electric Deluxe Presents ADE After Hours kicks off at 6am on Friday Oct 19 at Melkweg. Joining the master of ceremonies, Speedy J, will be Berghain resident Len Faki and EDLX's newest signee BlackAsteroid. Since moving to Berlin in 2003, Len Faki has become a figurehead of contemporary techno and firm favourite from the Ostgut Ton crew. Meanwhile Motor man Bryan Black has returned to his band roots since his explosive CLR debut, adding a distantly raw song-based brand of techno to the EDLX catalogue via his 'Black Acid EP'.
Saturday 20 oct – AIR
On Saturday Oct 20 AIR's resident techno party FORMAT will share the roof with a top-secret cast of EDLX associates. For now we can mention prolific Glaswegian Gary Beck, who has frequented both EDP and FORMAT events, will join hosts Juan Sanchez and Speedy J in this union of Amsterdam's two leading purveyors of underground electronic music and innovative club technology.
Sunday 21 oct – Melkweg
Finally, EDP wraps up ADE with an afterhour to end all afterhours, returning to Melkweg on Sunday Oct 21. Be sure to keep some raving in reserve for mythological techno gods Regis and Function who will be wielding their Sandwell District hammer alongside Rotterdam's ROD.
Course, that's not all: every night boasts some very special guests—you're just going to have to join us to find out whom! Here's a hint: think B I G. See you on the dancefloor!
Friday 19 oct – 6am > 3pm – Melkweg
Electric Deluxe Presents ADE After Hour
Speedy J – Len Faki – BlackAsteroid
+ special guests
pre-sale: www.ticketservice.nl
Join the event on FaceBook
Saturday 20 oct – 6:30am > 2pm – AIR
FORMAT + Electric Deluxe Present ADE After Hour
Speedy J – Gary Beck – Juan Sanchez
+ special guests
pre-sale: www.air.nl
Join the event on FaceBook
Sunday 21 oct – 6am > 3pm – Melkweg
Electric Deluxe Presents ADE After Hour
Speedy J – Sandwell District – ROD
+ special guests
pre-sale: www.ticketservice.nl
Join the event on FaceBook 
On sale: Fri Aug 31st 10:00 CET